ScheduleForce.net
Features
Benefits
Services
Modules
ScheduleForce.net is built on the following core modules:
Organization
Virtual Organization Builder allows you to define a software model of your real world business environment, with all Facilities, Departments and Places of Work. Manage security access, schedules, and staff at the appropriate level of business.
Security
Completely User defined Security allows for an unlimited number of User groups with completely different security access for each group, if desired. Create Employee User groups, which can give Employees access to their schedule, availability, and more. All from anywhere you can access a Computer.
Employees
Employee module contains sections to track demographics, address & contact information, Seniority, Contract Groups, Qualifications(Skills), Positions, Notes, and Availability. Where dates are tracked, effective dating is used to always maintain a history of Employee information.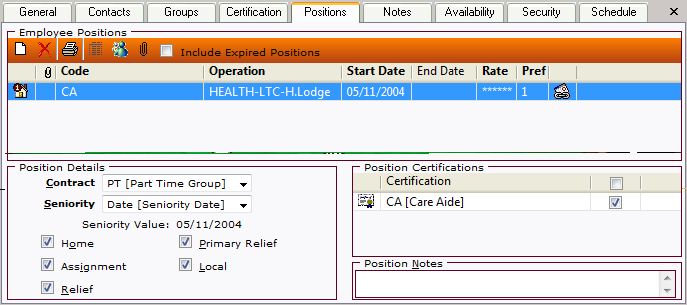 Rotations
Rotations create an environment that allows complex staffing requirements and work demand to be accurately configured. Due to the cyclical nature of Rotations, once a work demand has been created, the ongoing management takes only minutes. Flexibility to add an unlimited number of Shifts and Patterns is included. Again, effective dating is used to maintain a history. Rotations can be created for any pattern length required.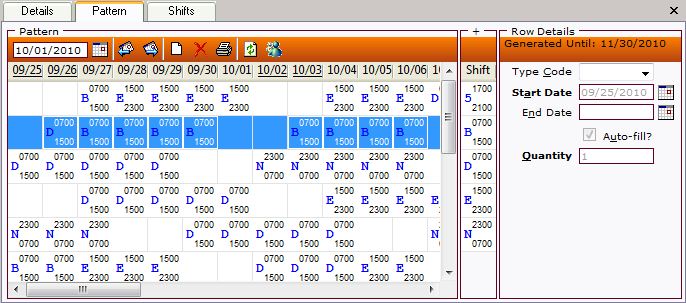 Assignments
Assignments allow semi-permanent to permanent ownership of shift patterns (from rotations) by Employees who have Positions that fit the required work demand. This Assignment takes 99% of the work out of creating schedules on a regular basis. Changes to Assignments might include changes such as Maternity Leave, Holidays, Injury, etc. These can all be easily accommodated, and again, effective dating allows an accurate history to be maintained.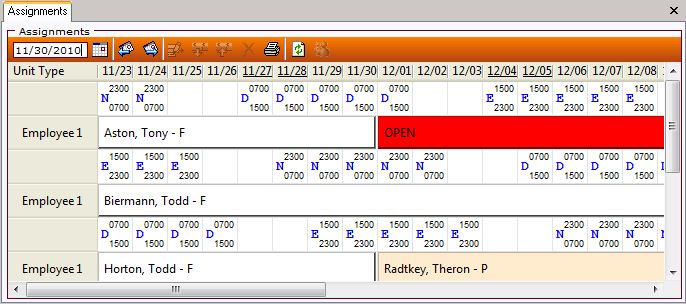 Scheduling
Scheduling is where it all comes together. Beginning with Schedule Creation, a schedule is automatically built by ScheduleForce, so that the manual process is done completely by the system. High-level tools are built into Scheduling to allow the exceptions to a schedule to be easily managed. These allow a scheduler to easily Swap Shifts, Book Off, Book On, Create New Shifts, etc. An extensive Audit Trail is maintained for all changes made to the Schedule.
Communications
Communications is a powerful paging system that can increase communication and reduce time required to fill shifts and contact Employees. By being integrated into the Schedule, an employee can be quickly paged by clicking on a shift they are working. Also, when filling a shift, paging can be used to contact potential employees for a callback to pick up the shift. Other ad-hoc reasons for paging are easily accommodated. If pagers are not used, email can be substituted for any of these functions.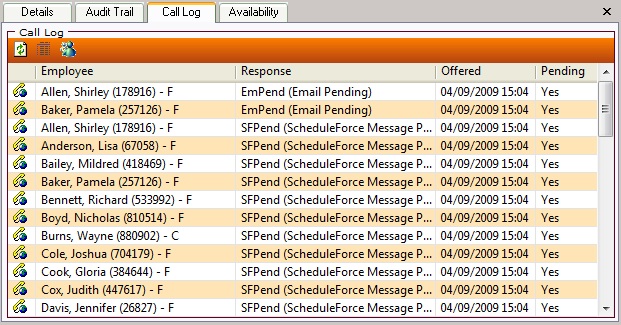 Reporting
Reporting is maximized with the use of Coldfusion Report Builder integrated into the web browser. Standard reports include Daily Schedule View, Master Schedule, Employee profile, Employee Qualification Expiry, and other System Reports. Custom Report Development is available on request.